Lloyd Blankfein last week tweeted that he's "still thinking about #Bitcoin," but the bank he leads is doing more than just thinking about the technology that underpins the cryptocurrency.
Goldman Sachs Group Inc. is the fifth most active corporate blockchain investor, with involvement in four companies focused on the distributed-ledger technology since 2012, according to a report by tech researcher CB Insights. The bank's investments include software developer Digital Asset Holdings, payments company Circle and Axoni, which provides blockchain infrastructure for capital markets.
Japanese broker and venture capital firm SBI Holdings Inc. tops the list, with investments in eight blockchain companies, including cryptocurrency exchange Kraken and Ripple, which provides banks with money-transfer technology. Alphabet Inc.'s Google comes in second, with six investments that span data storage provider Storj, cryptocurrency derivatives-trading platform LedgerX and merchant services with Veem. Overstock.com Inc., which last month said it's opening a cryptocurrency exchange, and Citigroup Inc. are the third and fourth most active.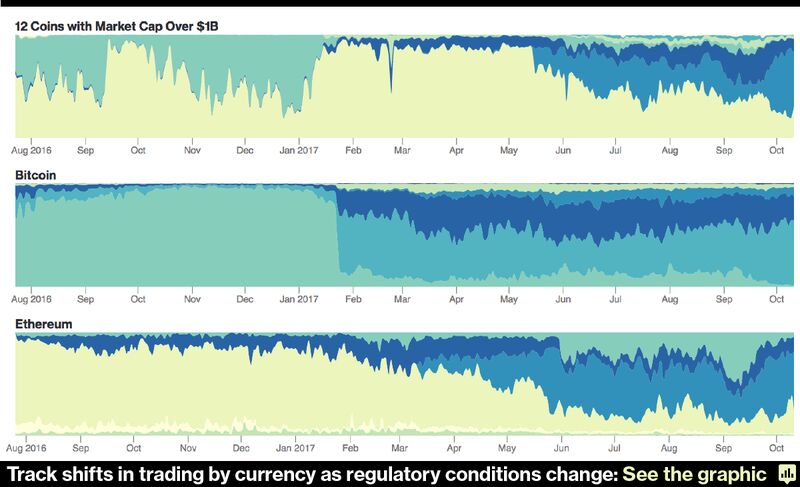 The data show that the world's biggest corporations are betting blockchain will start to seep into the fabric of business. The financial sector has been the most active as the technology especially lends itself to the transfer of money. All 10 of the largest U.S. banks by assets have been involved in the sector, investing $267 million in six blockchain companies and one consortium, the report found.
While banks and corporations are investing in a handful of blockchain companies, venture capital firms have bet on over 100 of them. The top three most active firms ranked by number of portfolio companies are Digital Currency Group, Blockchain Capital, Draper Associates, while Andreessen Horowitz and Union Square Ventures also make the list.
Read more on the surge in funding through initial coin offerings
Tightening regulation in South Korea and China isn't slowing the pace of token sales in the crowdfunding mechanism known as initial coin offerings. On a quarterly basis, total funding raised by ICOs surpassed total funding raised via traditional equity financing for the first time in the second quarter this year. This trend continued in the third quarter, with total equity funding to blockchain companies staying more or less stagnant quarter-to-quarter as their ICO counterparts grew 75 percent over the same period, CB Insights found.
When compared to traditional venture financing in the sector, ICOs are raising well above the historical average of $3 million for early-stage blockchain deals, and "many of these companies could run the risk of mismanagement after receiving such large sums in such a short time," according to the report.
Corporate investors will have to take a hard look at their blockchain bets and see which has the greatest potential to survive this still nascent stage of the technology.
---
Fonte: https://www.bloomberg.com/news/articles/2017-10-17/goldman-google-make-list-of-most-active-blockchain-investors
Por: Camila Russo
Comentários
Comentários